The following article will take you through the steps to enable your SharePoint environment for LiveTiles Design installation. At the end of the article you can find links for installation guides and supporting guides for LiveTiles Blueprint.
INTRODUCTION
LiveTiles Page Designer is deployed using a dedicated app called LiveTiles Design Manager. The app handles the deployment of the LiveTiles subsite and associated assets into your chosen SharePoint site collection.

The Manager app is also used to uninstall the solution from an environment.
Once deployed most of the functionality of LiveTiles Design is delivered centrally from a content delivery network (CDN) minimising the need for app updates.
Below takes you through the following steps required to successfully install LiveTiles Design for LiveTiles SharePoint:
Download the App
Adding the App to the App Catalog
Adding the App to a site collection
Installing LiveTiles Design through the App
DOWNLOAD THE APP
ADD THE APP TO THE APP CATALOG
Step one
Locate your copy of the LiveTiles Design Manager App file
Open the SharePoint App Catalog : https://<yourdomain>.sharepoint.com/sites/apps/AppCatalog)
ex. https://livetiles.sharepoint.com/sites/apps/AppCatalog
Step two
Click Upload > Upload the LiveTiles Design Manager App file

ADD THE APP TO A SITE COLLECTION
Go to Site Contents > Click New > Click App
Install the LiveTiles Design Manager app (you should see it under the "Apps you can add" section)
You will be prompted to Trust the app with its associated permissions.
If you are prompted with 'You can't add this app here' please complete Approving the LiveTiles Design Manager App before continuing.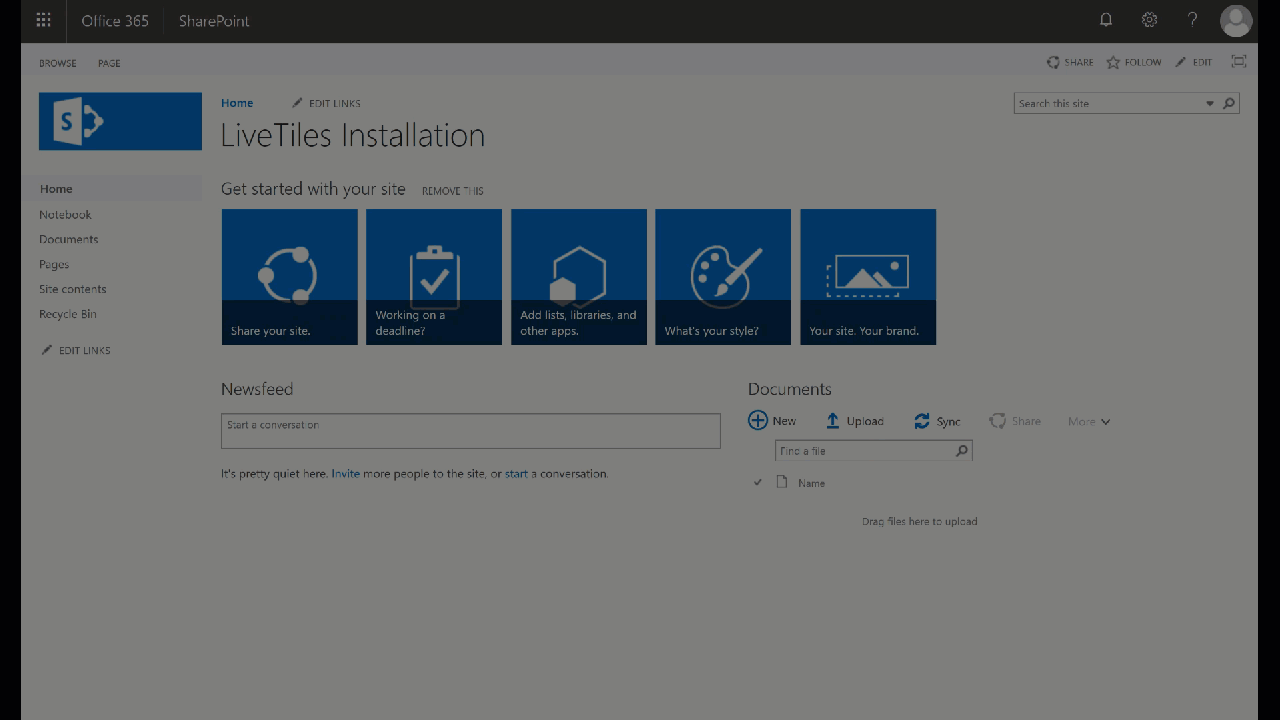 Once the app is added successfully, you will see the LiveTiles Design Manager under Site Contents:
INSTALL LIVETILES DESIGN THROUGH THE APP
Launch the LiveTiles Design Manager App
Click Install- the page will update with the successful installation
Click Go to LiveTiles Design

REGISTER THE DESIGN APP WITH LICENSE KEYS
Enter your licence details into the registration form > Tick the End-User Agreement checkbox > Click Register- you will be prompted with a modal window confirming registration

You are now ready to start using LiveTiles Design!