With the new modern experiences in SharePoint, users and editors are offered a modern, streamlined, and fully responsive user interface of sites, pages, web parts, lists, and libraries.
Besides the new user interface, the modern experiences, so far, include two site types, pages, and a selection of new web parts for use on modern sites.
The modern experiences is available in SharePoint in Office 365. For SharePoint Server 2019, some modern experiences will be available. In this article we'll introduce you to how the modern experiences affects lists, libraries, sites, pages, and web parts.
Lists and libraries
The modern experience for lists and libraries is faster, has a simpler navigation, and has more phone and tablet features.
Along with a new look and more streamlined user interface, lists and libraries in SharePoint has been optimized for most common tasks.
Files can now be copied and moved using the command bar. Documents can be pinned, files can be added as links, filter and sorting has become truly easy, and formatting can be applied to columns.
Some classic features are not available in the modern view, e.g. some column types and customizations.
As a library, list, or site owner you can switch the new modern experience of lists and libraries back to the classic experience, either permanent or just for a time.
NOTE: Users can change the experience in specific libraries or sites if they like. Also, changes to settings at library and list level will override changes at site, site collection, and tenant level.
Document library in classic mode on the left, and document library with modern view on the right.
Site types
The modern experiences in SharePoint include two site types: team sites and communication sites. While both site types offer the pages and web parts for the modern experiences, they each address different needs.
Team sites are designed for collaboration. They are connected to Office 365 Groups and use these for a simple permission model. Team sites make a good collaboration platform for members of a work group or project team.
Communication sites are made for communicating information and presenting ordered content. Offering page designs with pre-configured web parts, communication sites can get users quickly from creating the site to the phase of adding content.
The content area of team sites is always left aligned, and team sites have local navigation in the left side of the page. Communication sites have local navigation in the top of the page, and the content area of communication sites is always center aligned. This can not be changed.
Team site on the left, communication site on the right.
Pages and web parts
Modern experience pages are similar to classic pages in the way that they present content and hold web parts.
However the editor experience is fresh and new.
Pages are easy and fast to create, they are structured in columns instead of web part zones, and content can easily be organized by using drag and drop. Dealing with images is very intuitive and all modern pages are responsive from birth and all look great on mobile devices.
No content lives in a modern page. E.g. text lives in a web part on the page, not in the page itself.
Modern page in edit mode on the left, classic page in edit mode on the right.
The concept of page layouts, as we know it from classic SharePoint pages, has changed with modern pages. Modern pages doesn't offer fixed layouts for pages. Instead they allow editors to choose a page template that provide a starting point for how to compose content.
This gives the editor full control of the page layout that can be changed with simple page editing. However, admins will no longer be able to centrally determine the layout of a certain page type.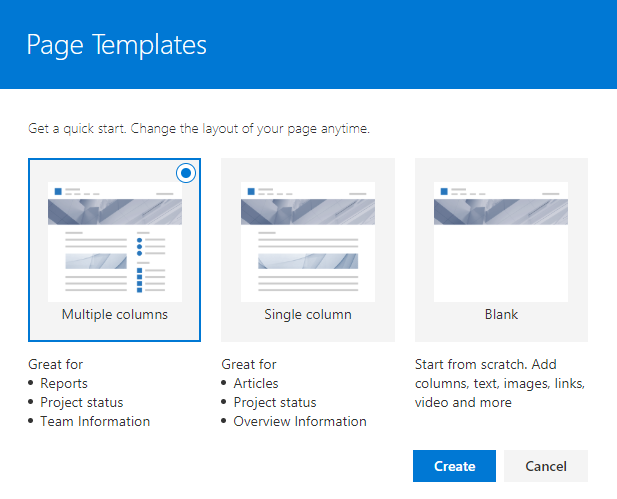 The modern experiences come with a selection of new web parts. Modern pages use these modern web parts that are designed to be fast and intuitive for editors to use.
SharePoint's web part gallery is ready available at the page in the context where you are inserting the web part.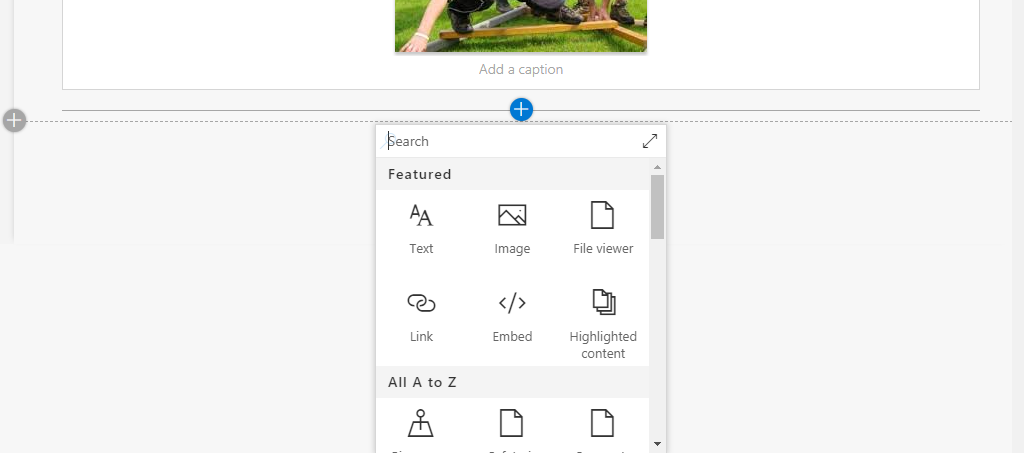 Once inserted, the web part can be easily edited, moved, or deleted.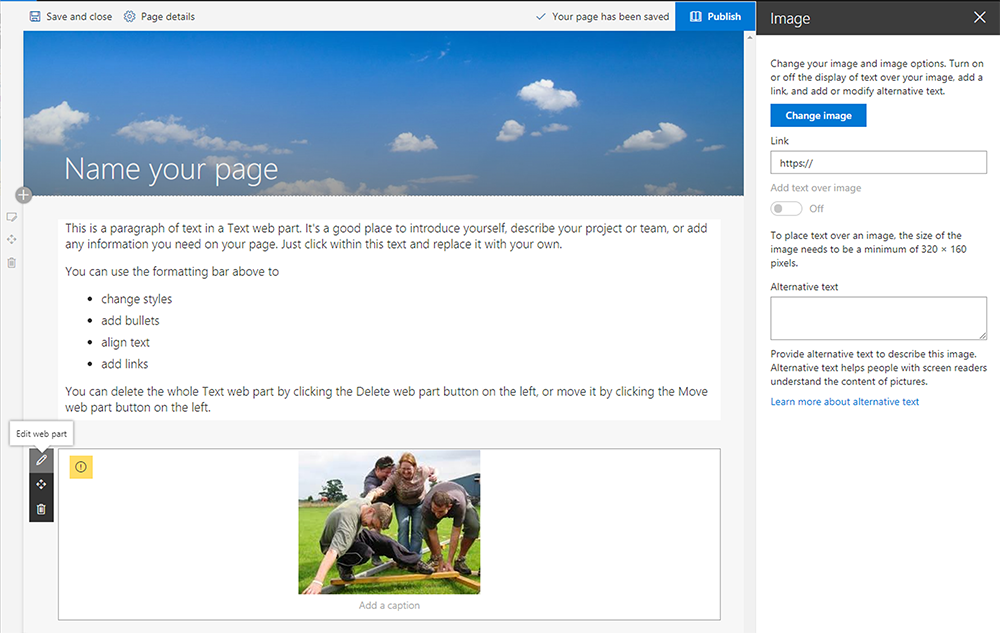 Only modern web parts can be used on modern pages, as only classic web parts can be used on classic pages.
However, custom modern web parts can be used on classic pages which e.g. means that Wizdom's web parts for modern pages can be used on classic pages too.
The flat world of the modern experiences
The modern experiences introduce a new way to order sites. As opposed to the classic experiences of SharePoint, the modern experiences insist on a flat structure where no site is a subsite to another. Instead. all modern sites are separate site collections. Yes, you still can create subsites, but this is not supported by Microsoft and, therefore, not recommended.
This is a huge change in how to think site architecture.
Without subsites, permissions can no longer be inherited from one site to another.
Also, with the modern experiences, a maximum of two levels is possible (because of hub sites that offer a connection between sites and, therefore, a kind of additional level).
One tenant can not have more than a maximum of 50 hub sites, and only administrators can create hub sites which are created with PowerShell.
Hub sites
Hub sites are a way to organize, in this world of flat hierarchy, as they tie sites together and enables you to connect and organize sites based on department, division, project, region, etc.
Making a site a hub site will enable other sites to be connected to this site. These sites will then use the same branding and navigation as the hub site.
Users will be able to search across all associated sites, and news and activities from all connected sites can be displayed at the hub site home page making it easier for users to discover related content, news, and site activity across all associated sites.