LiveTiles Vibe allows you to reach out to employees with short, sharp, actionable questions. This lets workers respond within seconds, in whatever channel they are in, and continue with their day, reducing the cognitive load of jumping between multiple systems.
Index
Application Permissions
Vibe is a SaaS application with no installation or deployment requirements. It only requires basic permissions that a user will be prompted to consent to during their first login. The permissions requested are seen in the below screenshot from the standard Microsoft Authentication flow.
Note: Only administrators will be able to consent on behalf of the organization. Users will also only be able to consent if their directory configuration allows this.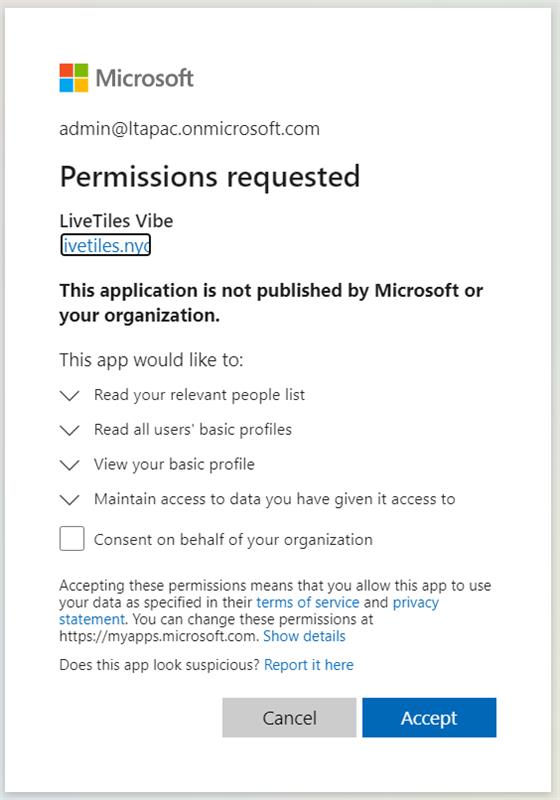 Notes
Vibe supports modern chromium-based browsers, including Google Chrome and Microsoft Edge.

Vibe currently supports the creation of Vibes by users signed-in with an Office 365 account.

Vibes are currently supported via email as the channel of delivery to your recipients. We are looking to expand the available channels as we get feedback from users.

The Vibes available at the moment do not allow for customization. We are already working on functionality to allow customized Vibes that would allow questions and answers, and branding specific to your organization or team.

"In-place" responses, i.e. the ability for a recipient to respond directly in their email via the buttons or other UI components, is only possible in email clients that support Microsoft's Actionable Messages. At present, this is limited to Outlook only (both desktop and web versions). Vibes received in other clients will have an HTML fall-back that will redirect users to a Web-version in order to respond.
Creating a Vibe
LiveTiles Vibe Creator Wizard
You will be able to access the Wizard from our website, or via marketing content received in email.
Select a Vibe
Vibe Categories
Choose an applicable category that you would like to select a Vibe from. We have 4 categories as part of our launch campaign. These are:

Featured - A list of featured cards

Wellness -

Cards focused on employee wellness

Alignment - Cards with questions around team alignment

Engagement - Cards to gauge employee engagement

Once you selected the applicable category, you can browse through the available cards for that category by using the arrows on the carousel.
When happy with the card selected, hit 'Next'.
Authenticate
If you are not yet authenticated into your O365 account, you will be prompted to do so on the Recipients screen.
Follow the standard Microsoft authentication flow for this. (This is also where the consent step will occur, mentioned in the Application Permissions section above.)
Add recipients
Once signed in, start adding recipients who you would like to send the Vibe to. Addresses will auto complete based on your contact list. (Note: Distribution groups are not supported at the moment since each address specified will only allow 1 response to a Vibe)
You are also able to paste in a list of comma-separated emails.
Once done, hit 'Next'.
Schedule your Vibe
There are three options for the timing around sending your Vibe. It can be sent immediately, as a once only at a scheduled time, or it can be scheduled on a recurring basis.
Send Now
The Vibe will be sent immediately once the creation wizard is completed. This is particularly useful when feedback is required in a short turnaround or at a particular point-in-time around an event happening now.
Once Only
The Vibe will send once only for each of the days that is selected. This allows a Vibe to be scheduled for a couple of days around a particular event.
Select the day(s) that you would like to send your Vibe. By default, today is selected.
Select the time that you would like to send your Vibe. This is in your local timezone, and the default time is set 1 hour in the future.
Select 'Once Only'.
Accept the T&Cs.
Hit 'Finish'.
Note: If you select the same day with a time in the near future, and by the time the wizard is completed that time has passed, the Vibe will be scheduled for the following week at that time.
Recurring
These Vibes will recur on an ongoing basis every day(s) that is selected, on a weekly basis.
Select the day(s) that you would like to send your Vibe. By default, today is selected. Multiple days in the same week can be selected.
Select the time that you would like to send your Vibe. This is in your local timezone, and the default time is set 1 hour in the future. The Vibe will be sent at the same time every day that is selected.
Select 'Weekly'.
Accept the T&Cs.
Hit 'Finish'.
Finish
You will see a confirmation screen with all the details of your completed Vibe.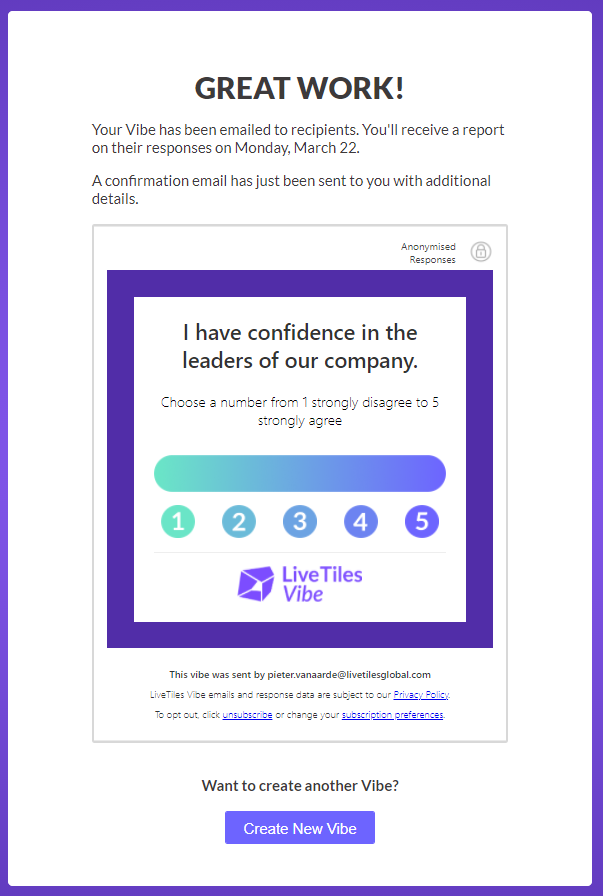 Confirmation Email
You will also receive a confirmation email with the detail of your scheduled Vibe. From this email, you are also able to Cancel a Vibe, or Export the Results of your Vibe at any time.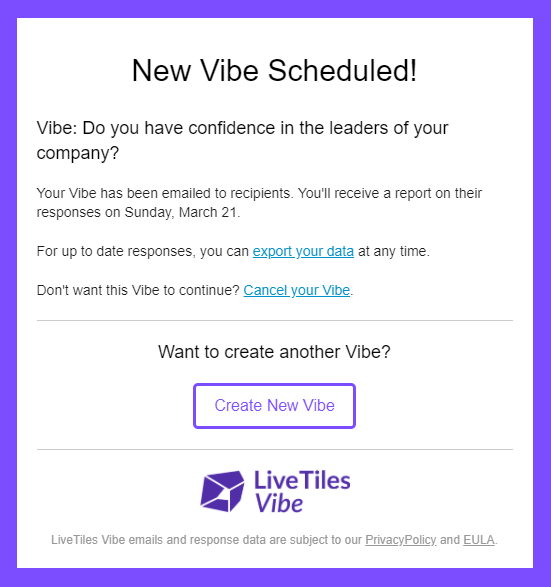 Cancelling a Vibe
Existing Vibes can be stopped via the confirmation email that was sent to the Vibe Creator after completing the wizard.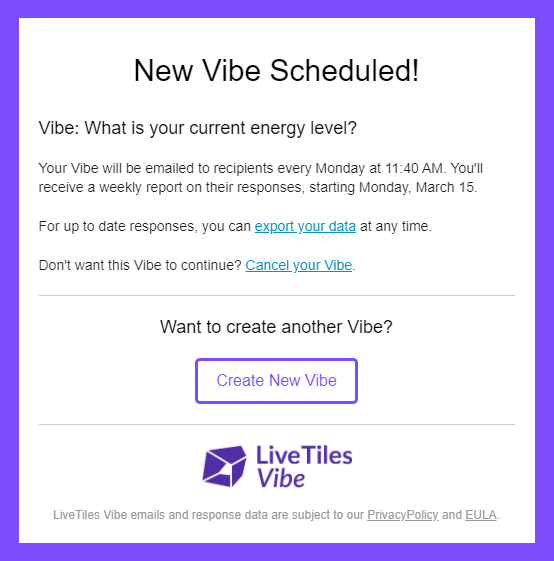 Hitting the 'Cancel' link will open a web page with the Vibe's details. Clicking the 'Stop Vibe' button will cancel the Vibe.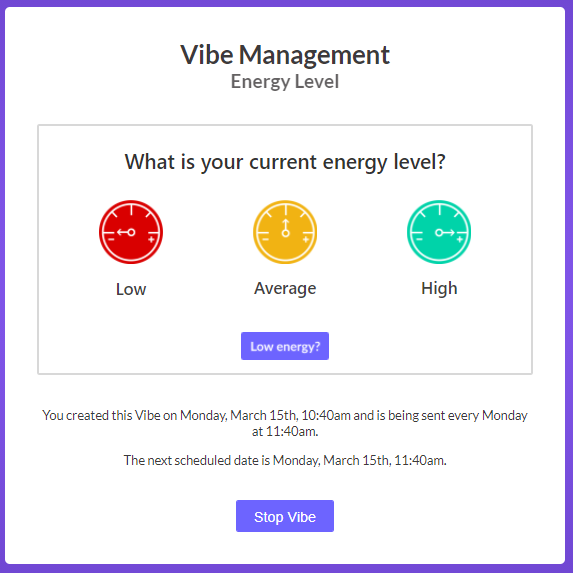 Responding to a Vibe
The experience for Vibe Recipients around responding to a Vibe, is covered in detail here.
Unsubscribe from Vibe
Vibe Recipients are able to unsubscribe from one or multiple Vibes. This could affect the audience that is reached when a new Vibe is created for some of these recipients. For more detail see the Recipients article here.
Vibe Response Data
Creators have two options to view the responses from their audience for a particular Vibe, either by viewing the automated report email, or by manually exporting the data.
Email Reports
Vibe reports are auto-generated and emailed to the Creator at specific times that depend on the type of schedule that the Vibe was created with. Details as follows:
Send Now - For Vibes that were sent immediately, one report will be sent 1 week after the Vibe was sent.
Once Only schedule - Vibes that were scheduled to send on one (or multiple) days in the coming week, will have one report sent 1 week after the final Vibe was sent. Eg. if I send a Vibe on a Monday and Tuesday, the report will be sent the next Tuesday.
Weekly schedule - Vibes that were scheduled as recurring Vibes to be sent on an ongoing basis, will have a report sent every Monday after the Vibe was created.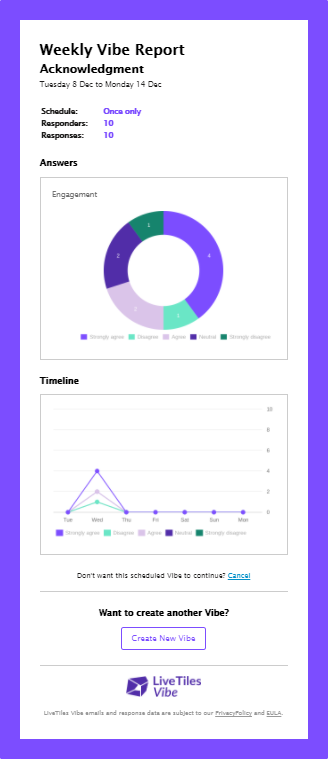 Export Responses
The Vibe Creator has the ability to export the data for their Vibe at any time. This export will include all responses covered up until that point in time.
To access the exporting functionality there are two options:
Confirmation email
There is a link provided in the confirmation email that is sent after a Vibe has been created.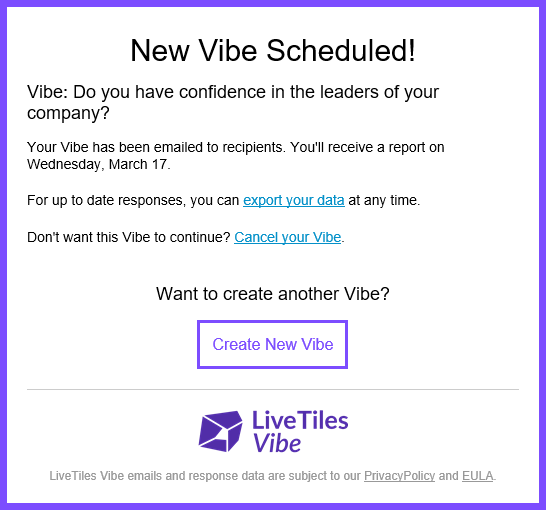 Reporting email
The same link to export data is also available in the automated weekly report emails that will continue to be sent for as long as the Vibe continues to run.