LiveTiles Vibe allows team managers, HR, and internal communications staff to reach out to employees with short, sharp, actionable questions or requests for information. This allows employees to respond within seconds, in whatever channel they are, and continue with their day, reducing the cognitive load of jumping between multiple systems.
Index
Responding to a Vibe
Recipients who were added to the Vibe during configuration, will receive the Vibe in their mailbox at the scheduled time.
Vibes are sent from vibe@livetiles.io. In order to ensure correct behavior, make sure this address is added to your 'Safe Senders' list.
Supported Email Clients
For those using the supported email clients that allow for Microsoft's Actionable Messages, you will be able to respond (through buttons, text fields, etc.) directly in the email.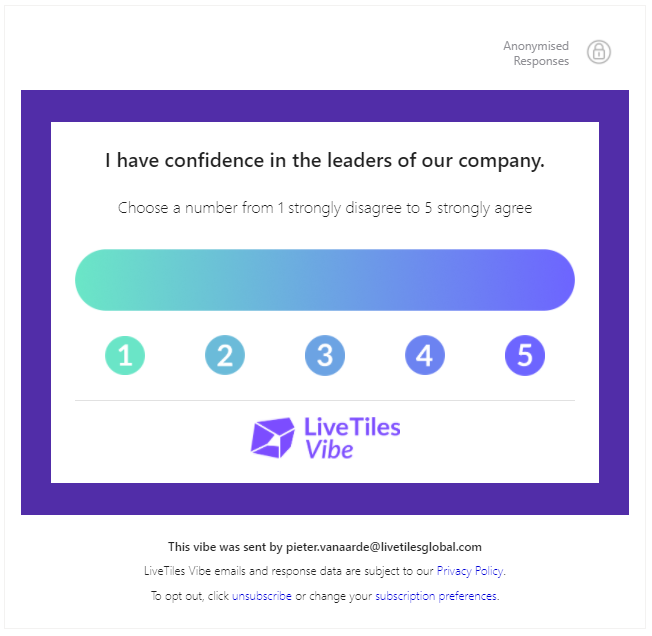 Once the interaction with the Vibe is completed, the card (whether in email or the browser) will update to the below confirmation.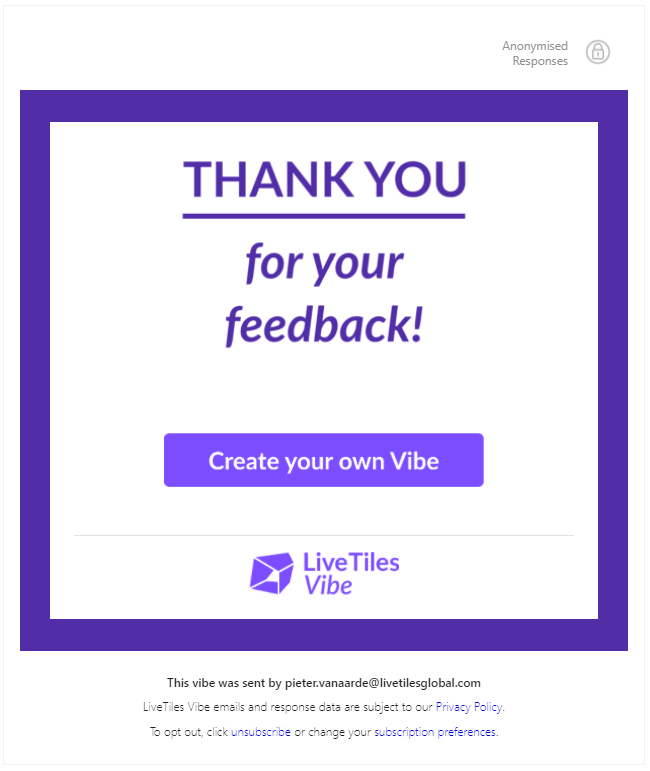 Non-supported Email Clients
For non-supported email clients, a HTML fall-back will be displayed with a 'Respond' button. Clicking this will render the Vibe in a browser window, where you are then able to respond.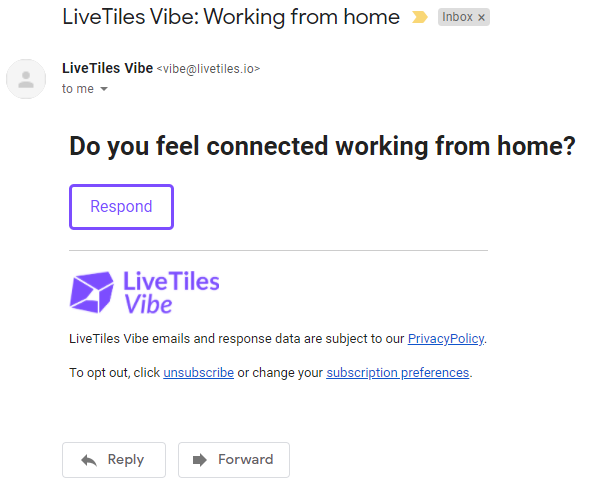 Supported Browsers
Vibe supports all modern Chromium browsers. These include Chrome, Edge and Firefox.
Internet Explorer is not supported.
Identify the Vibe Creator
You are able to identify who created a Vibe that you received. This is visible below the Vibe card as highlighted in the image below: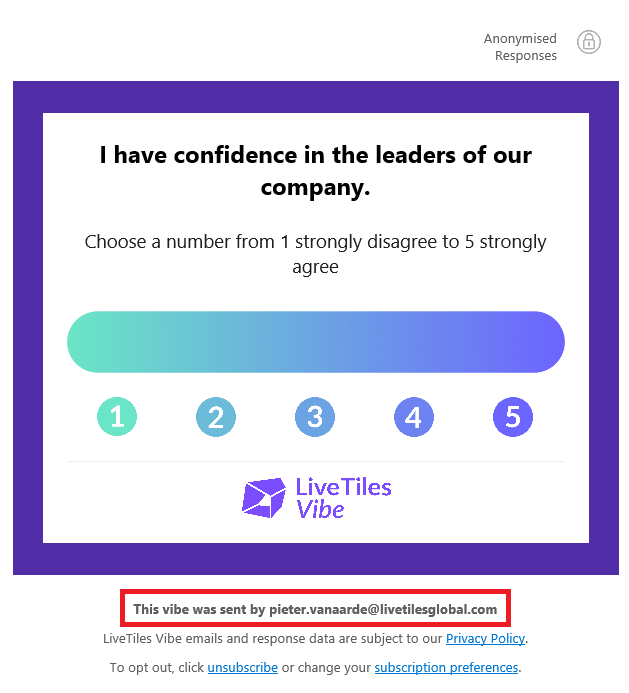 Anonymous vs Identifiable Responses
Vibe Responses can be either anonymous, or identifiable, i.e. linked back to particular user.
Anonymous responses
Any 'content' Vibes, i.e. Vibes created by another individual (not a system-generated Vibe), by default captures responses as anonymous so that no individual can be linked back to any specific response. This is the behavior for any Vibes at the moment.
On a Vibe, you will see an icon providing an indication of whether the responses are anonymous or identifiable. Below is an example of a Vibe with anonymous responses.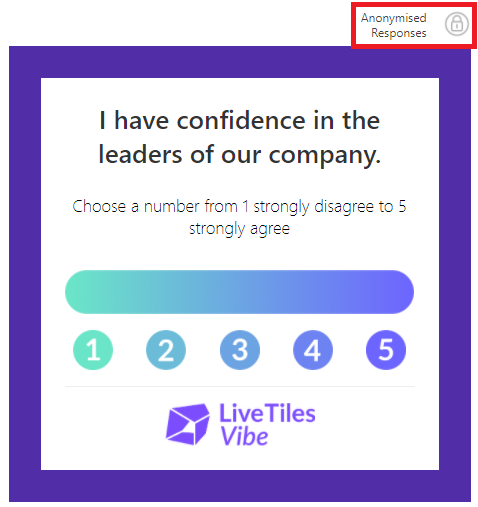 Note: There are some things to keep in mind that could make it possible to identify some individuals through extrapolation. For example, if a Vibe is sent to only one individual, even though the response isn't directly linked to a name, the Creator of the Vibe would be aware who the response came from.
Identifiable responses (coming soon)
This scenario is not yet supported, but will be made available in an upcoming release. This is specific to system-generated Vibes, where the recipient has to be identifiable in order to attribute the feedback back into a particular system or workflow.
Unsubscribe from Vibe
Any recipient is able to opt out of receiving future Vibes if they wish to do so. This can be done by clicking the 'unsubscribe' link in the bottom of all of the Vibe-related emails.
Alternatively, they can manage all of their subscription preferences for all Vibes that they may be on the recipient list for by clicking the 'subscription preferences' link.
Note: For Vibe Creators, if a recipient has unsubscribed and opted out of 'all current and future campaigns', then they will NOT receive any Vibes going forward, even if they are newly added to Vibes as recipients.