Heighten the value of your pages but tracking click activity and seeing what users are navigating to most or least! in your designed pages. Ensure that users are accessing the most up to date and relevant resources by implementing the Heatmap.
The Heatmap feature of LiveTiles' Analytics product allows you to see what tiles your users are interacting with as well as the frequency which the tiles are being used.
How to use
In order to use the Heatmap, go to the page which you would like to get information about. On the ribbon, under the 'Analytics' dropdown, you will see the Heatmap button.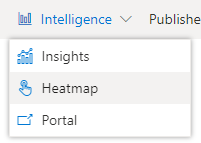 Selecting this will allow you to be able to have an overlay appear on your page, showing you which tiles are being used, and the frequency in which users visiting the page will interact with that tile.
The percentages displayed on each tile indicates the unique tile interactions per page load. The higher the percentage, the more use a particular tile receives.
Note: The date range is fixed to a rolling 7 days, the same date range that is used on the Insights panel.
Note: For Insights and the Heatmap to display Intelligence data correctly, the full page url needs to be used. So in the case of using a subsite, users need to explicitly include pagename.aspx for the Insights to show.
We use the full page url as the unique identifier in the backend for a page. This is due to page IDs potentially being duplicated if pages are copied etc.