This article describes the different ways in which you can deliver multilingual content with LiveTiles Reach.
In this article:
Multi-language capabilities
If content is offered in the language of the readers, they can be reached better. LiveTiles Reach offers multilingualism on different levels:
Multilingual user interface based on user settings
Multilingual articles - the editor can manually translate important content in different languages
Automatic translation function - the user can automatically translate articles, posts and comments that are not available in his language.
The preferred language can be changed at any time in the personal settings: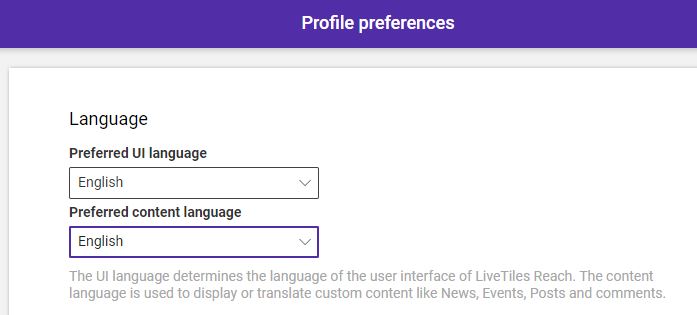 Elements such as the navigation menu, notes or the editor are displayed in the preferred language. If translations for news articles are available in the preferred language, these are automatically displayed to users.
Employing automatic translations
Today, users are open to new technology and changes. However, opinions differ on the subject of translation. Does automatic translation come close to manual, human translation? The advantages of automatic translation are obvious:
Volume: Even large amounts of text are no problem for automatic translations - even in a short time, they can handle a volume that would otherwise only be possible for several translators.
Availability: With automatic translation, users do not have to wait for the translated content to be completed, but receive their text immediately.
Price: The translation, which works automatically, is very inexpensive - significantly cheaper than, for example, using professional translators.
In LiveTiles Reach, content such as news articles can be automatically translated by clicking on the globe icon in the title bar. The list shows all active languages that have been set up globally. If "automatic translation" is noted next to a language, this means that no manual translation is available for this content, but automatic translation can be called up. The menu also contains a link to the user profile settings: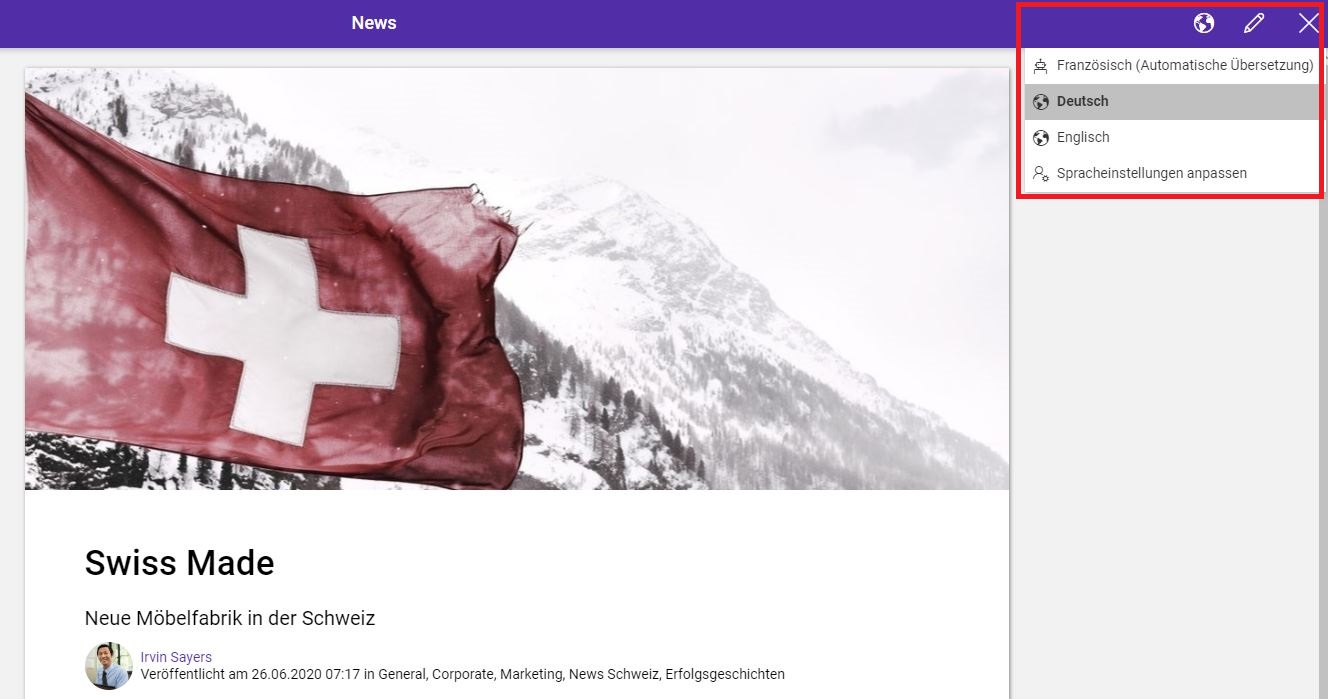 In addition to news, pages and events, the automatic translation function is also available for the respective comments and for posts and post comments at any time. This allows for automatic translation into the language preferred by the user to follow discussion without the need to tediously insert text into other translation tools or websites. If a user has set "English" as preferred language, all other language comments are translated into his language with one click: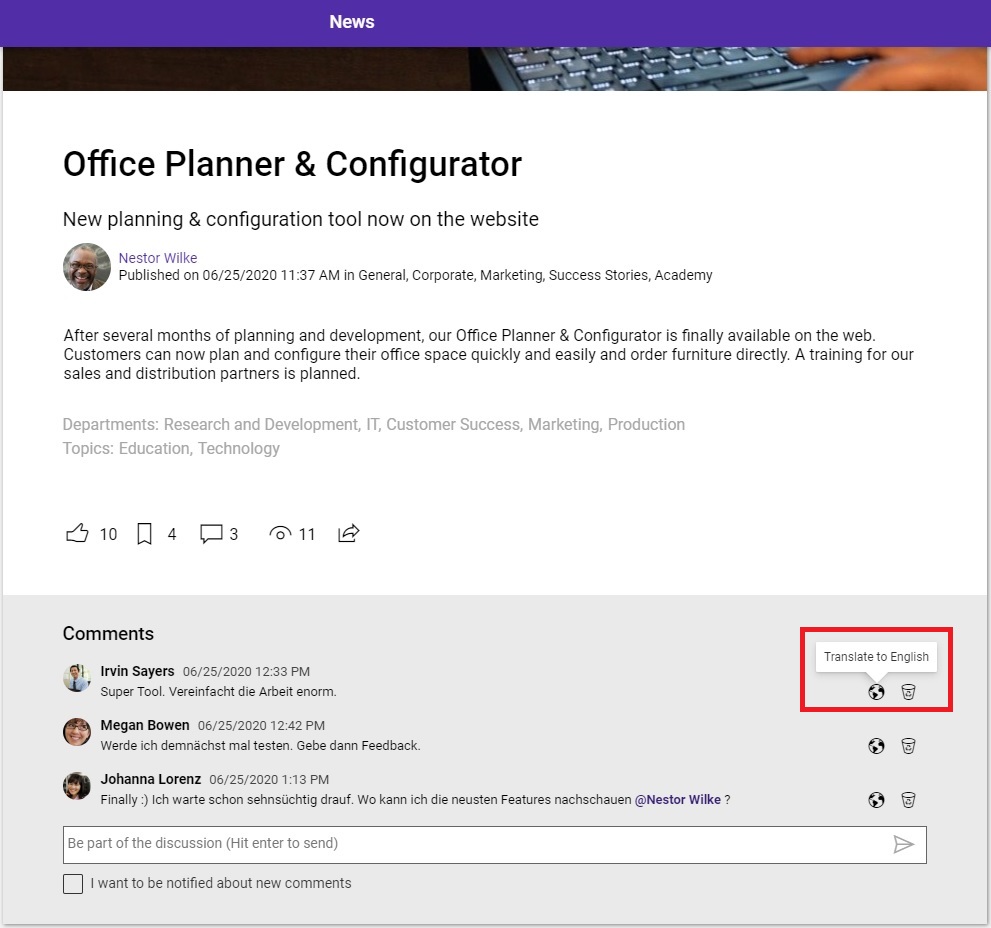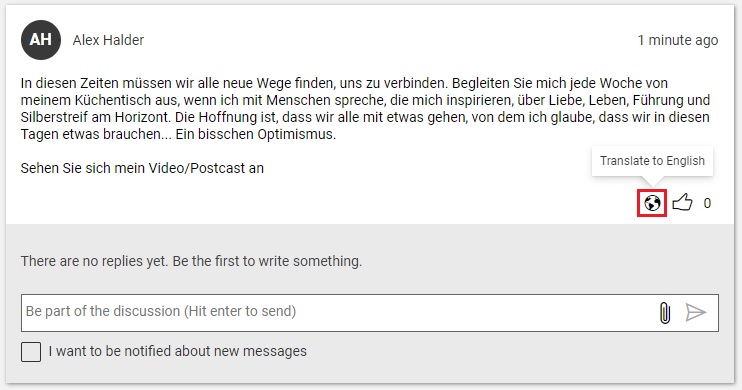 The translation mechanism is a complex process and works best when the text to be translated is grammatically correct. Colloquial expressions, misspelled or ambiguous words, missing punctuation marks, complex or excessively long sentences can cause a translation to fail.
Depending on the source text, the subject matter and the importance of a news item, it must therefore be decided when content requires manual translation and when automatic translation is perfectly adequate, such as for:
Technical documentation or product information
short internal announcements like HR-News
Marketing texts
Help or advice texts that do not require correction loops
Automatic translations for news, pages and events
Note: The following feature is preview. Please contact us if you want to try this feature.
Automatic translation can also be used for permanent translation of news, pages and events. By clicking on the world icon, a new language version can be added, as well as an automatic translation can be created. The translation is based on an existing template. The translated text remains as a template and can thus be manually adjusted before publishing if necessary.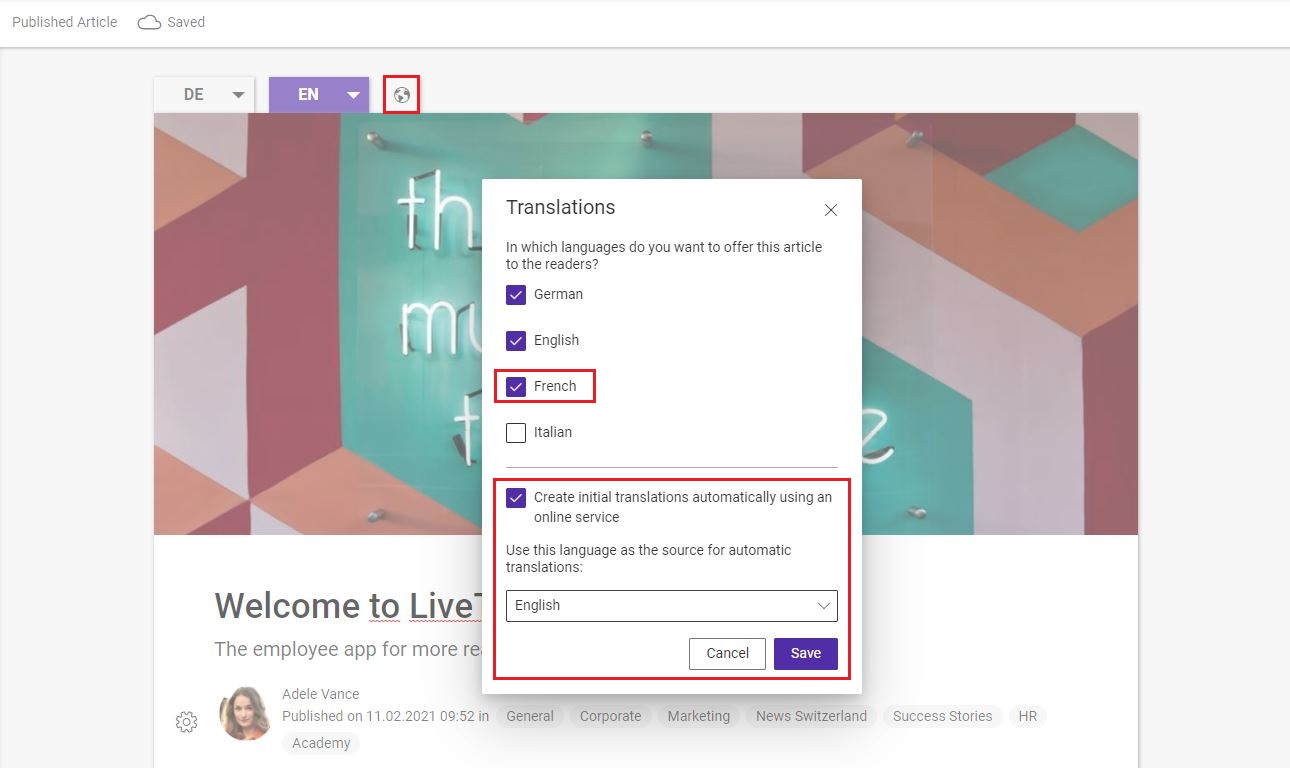 Employing manual translations
With manual translations, you can offer quality for published content and meaningful availability in other languages. If you expect high or professional quality, there is no way around a manual, human translation. Manual translations ensure the following advantages, among others:
Industry language: Only specialists can reliably reproduce the technical language of many industries in the translations
Expression: Secure communication of the own brand values
Context: in automatic translations, systematic and formal rules are strictly adhered to, so that overall contexts are often ignored or ambiguities cannot be transferred correctly
Accuracy: Many factors contribute to the fact that automatic translations do not always produce correct results, because human language is complex, imprecise or not clear enough
Manual translations for news, pages or events can be easily added individually per article in the editor. The same editing options are available for the translations: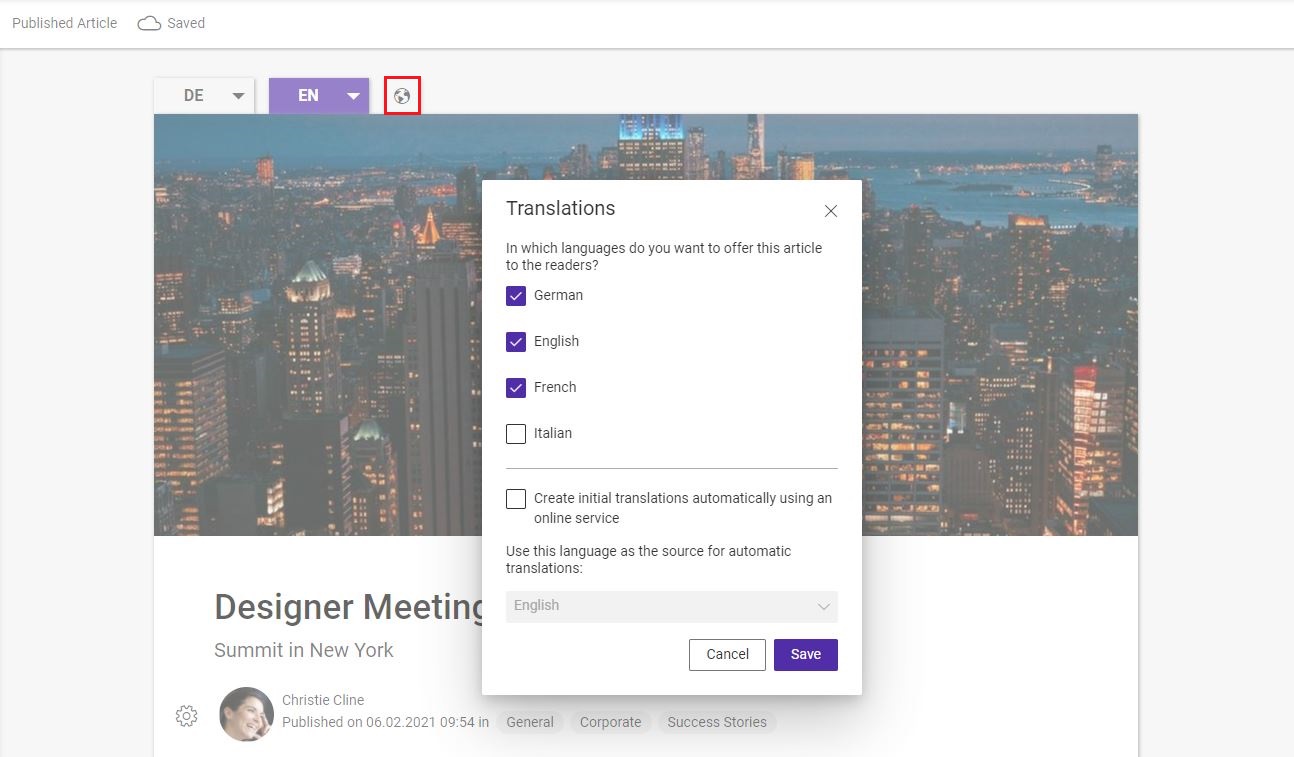 As long as content is fact-oriented and formal, automatic translation should work perfectly. Manual translations are particularly suitable for:
Professional article
Important company information with sensitive data that needs to be reproduced correctly in all languages
Languages that are available for manual translation of articles can be managed in the global settings so that they are then available to authors and editors: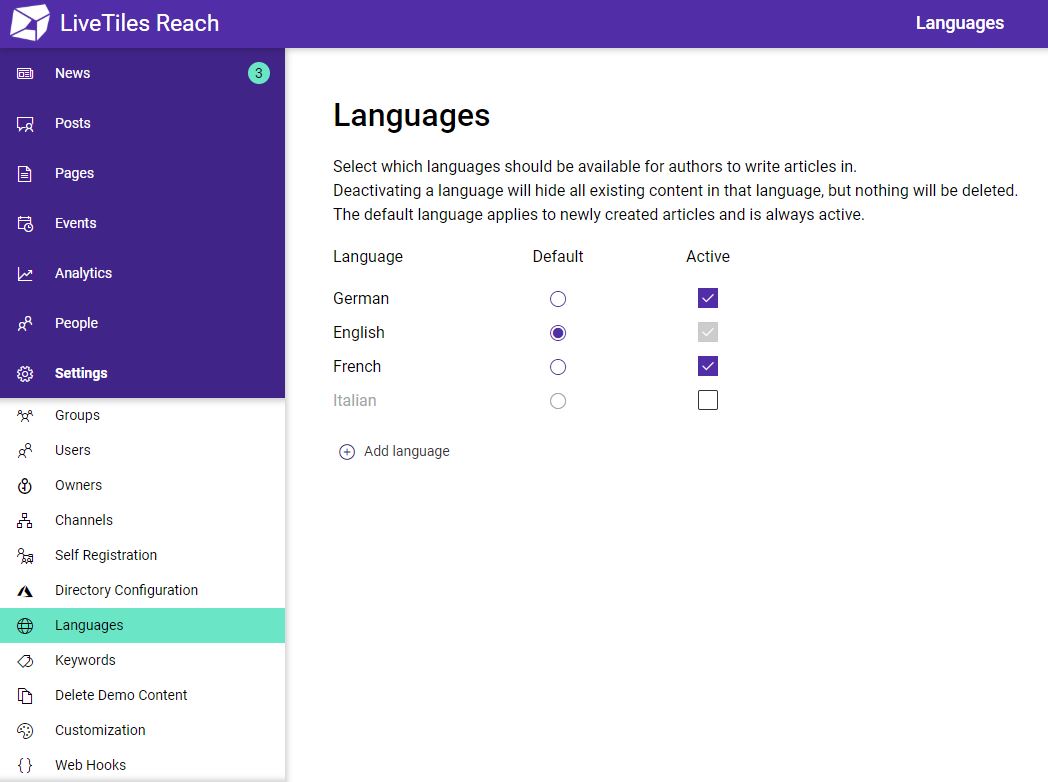 Supported languages
For translations, LiveTiles Reach currently supports the following languages:
Afrikaans
Arabic
Assamese
Bangla
Bosnian (Latin)
Bulgarian
Cantonese (Traditional)
Catalan
Chinese Traditional
Chinese Simplified
Croatian
Czech
Danish
Dari
Dutch
English
Estonian
Fijian
Filipino
Finnish
French
French (Canada)
German
Greek
Gujarati
Haitian Creole
Hebrew
Hindi
Hmong Daw
Hungarian
Icelandic
Indonesian
Irish
Italian
Japanese
Kannada
Kazakh
Korean
Kurdish (Central)
Kurdish (Northern)
Latvian
Lithuanian
Malagasy
Malay
Malayalam
Maltese
Maori
Marathi
Norwegian
Odia
Pashto
Persian
Polish
Portuguese (Brazil)
Portuguese (Portugal)
Punjabi
Queretaro Otomi
Romanian
Romansh
Russian
Samoan
Serbian (Cyrillic)
Serbian (Latin)
Slovak
Slovenian
Spanish
Swahili
Swedish
Tahitian
Tamil
Telugu
Thai
Tongan
Turkish
Ukrainian
Urdu
Vietnamese
Welsh