In this article
Introduction
With an astonishingly few settings you can brand the app and create a custom experience for your users.
Logo: use your company logo or create your own logo for your Employee App
Colors: select a base color and an highlight color - LiveTiles Reach automatically calculates the remaining colors
Name: your Employee app should have an appealing name - get creative!
Subscription Handle / Link: create an individual link through which your employees call LiveTiles Reach
All individualizations can be conveniently made on the page Customization in the LiveTiles Reach Settings: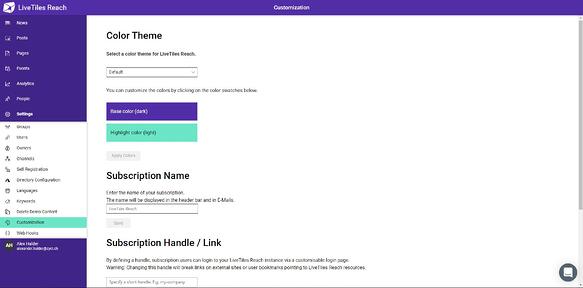 Upload logo
In the "Logo" section, press the Upload button
Select and insert the desired logo from your tray. Notes: the logo should be square to ensure optimal display.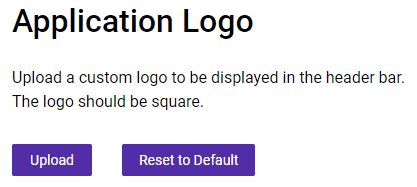 The logo can be overwritten at any time by uploading another logo, or with the Reset to Default button can be replaced with the Original LiveTiles Reach logo.
Customize colours
You can customize your LiveTiles Reach app's colour scheme to your CI/CD using a base colour and an accent colour. The easiest way to choose one of the included colour schemes is to: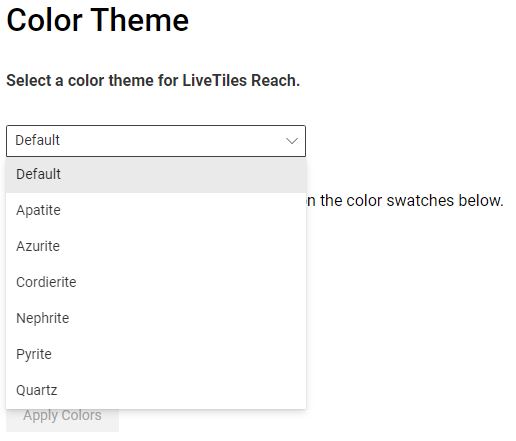 Or you can click Base Colour or sp. Highlight colour to determine the two colours directly over their colour values (Hex or RGB). LiveTiles Reach automatically determines the complete schema from these two colours.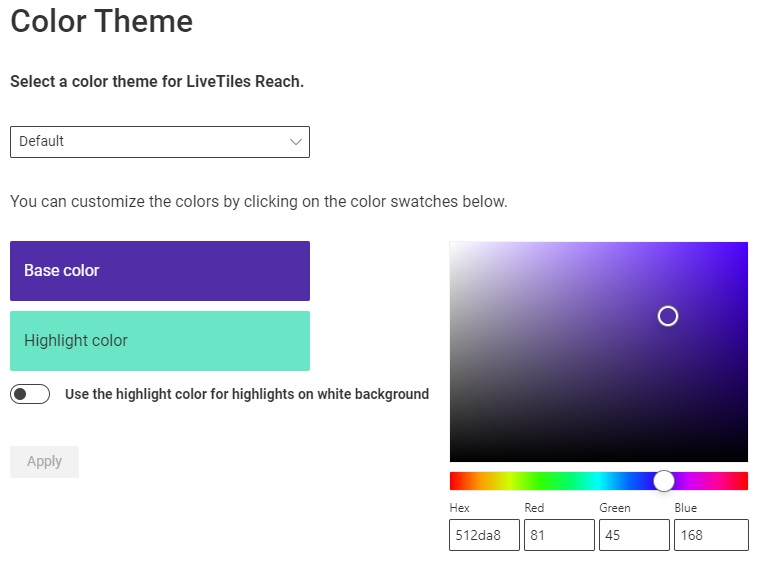 Select "Use the highlight color for highlights on white background" if you want to use the highlight color instead of the base color. This makes sense if the base color is chosen rather light -and the highlight color rather dark.
Choose a name
Good names are difficult to find, but unlike a company name, you don't have to pay attention to the availability of domains because you only use the name internally.
Nevertheless: the name is extremely important, because it stands for your culture, is intended to inspire and motivate your employees, and at the same time to make the role of your employee app clear.
Inspiration for names:
Simple, generic names, such as "Employee App" or "Employee Portal" in combination with your company logo.
Names related to communication, such as "Wire", "Forum", "Village" or "Plaza" in combination with your company logo or your own app logo.
Person names, such as "James" or "Ronda", possibly in combination with their own user profile, which can then also be used as a bot.
Fantasy names allude to the activities of your company, such as "The Green" (for a golf course operator) or "Medium" (for an international hospital chain).
The name can be changed at any time on the Customization page and, in addition to the display in the header, is also used in emails sent by LiveTiles Reach: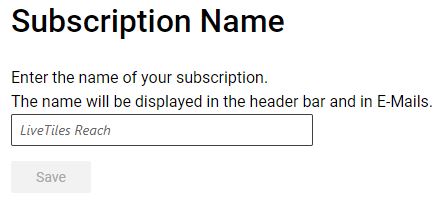 Create a Login-Link

https://reach.livetiles.io/login allows users to log on to LiveTiles Reach. You can personalize this link with your own ID so that your users can see that they are signing in to a corporate app the first time they log in. As soon as you enter an ID in the Subscription Handle / Link field, your individual login link will be available in the form "https://reach.livetiles.io/id/login. Your company name or the name of your app is best used as an ID (see above).

Custom URL
We have recently also added the ability to configure a Custom URL for your Reach environment. This will make it easier for your users to recognize, remember and trust the URL for the Reach application.
To configure this, please get in touch with your LiveTiles representative.