To quickly inform employees and customers about newly published content, LiveTiles Reach offers the following notification types:
Mobile Push
Browser Push
Email
Microsoft Teams (If the Reach Teams app is used)
In addition to the well-known way of email notifications, push notifications more and more have become established nowadays.
It is impossible to imagine a successful marketing strategy without push notifications, because they are in no way inferior to classic email marketing and the high click rates cannot be reached even with email marketing.

Push notifications are messages that appear on the smartphone without opening the app in question, allowing the LiveTiles Reach app to send notifications to the home screen or notification bar
The app does not need to be open to receive the notifications. This way you will not miss any important news or messages. Further push messages are characterized by the fact that they contain quite short messages that only pass on the essence of a news. The prerequisite for push notifications is that the app must be running in the background and an Internet connection must be available for the app to receive new data.
Push notifications animate the user to open the app or to take another action and make curious about the content. Especially urgent messages can be reached quickly by the recipient in this way, so that important information is not withheld from the users.
Push notifications are also visible when a lock screen is activated. This way, you can keep an eye on when your phone is vibrating or when you have recently received a call on your device. The notifications inform purely about topics that interest the users. There is also no need to spend a long time handling the smartphone, as a quick glance is simply enough, especially since the notifications appear even when the key lock is set.
Each user can individually manage in the personal profile settings how LiveTiles Reach should send notifications: Push, Email, or Microsoft Teams (if the Reach Teams app is used). Furthermore, this can be set individually for news, events, posts, mentions and comments. For the Chat, only Push notifications are available: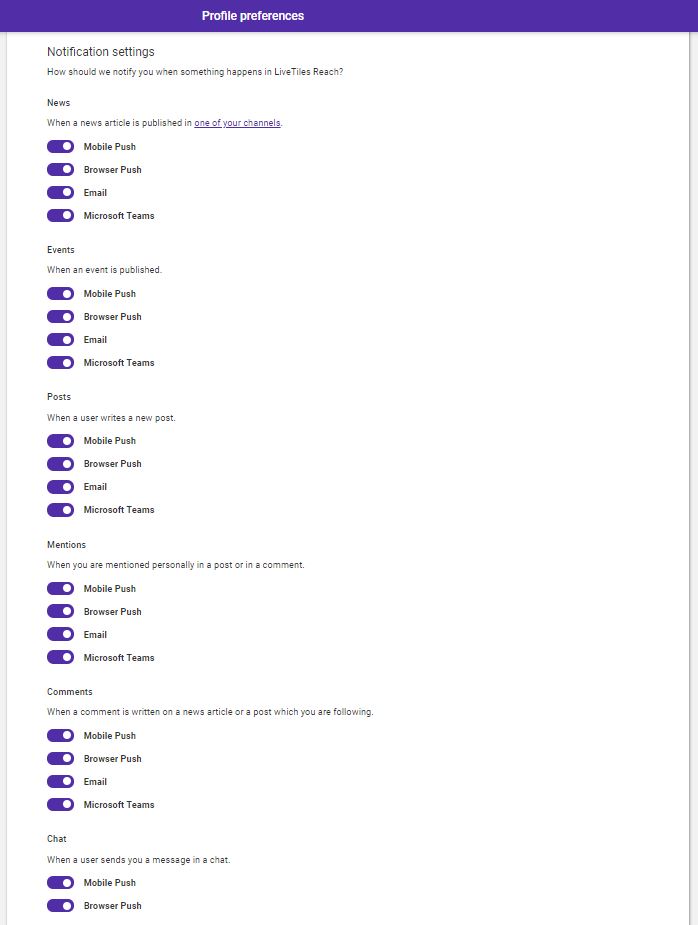 If you want to receive notifications in the Reach Teams app, an administrator must give consent once under "Settings > Directory Configuration".

When new news articles, posts, events or comments are published in LiveTiles Reach, users can be notified by e-mail, receive a push notification on their mobile device or receive a browser push notification. To change the setting, simply use the slider: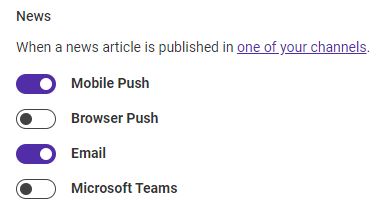 The e-mail notification for events includes a .ics calendar file which can be added to the calendar.

If you plan to use Browser Push notifications, you have to register your browser first:


If you would like to follow a discussion about an article, please set the marker below the comments. By means of this function you can decide for yourself which new comments in which news you should be informed immediately:


Specific notification settings can be defined per post group. Via the icon with the bell you can define if you will be notified for every new post in the group (Get notified about new posts) and/or if you will be notified for all comments of the posts (Follow all posts by default).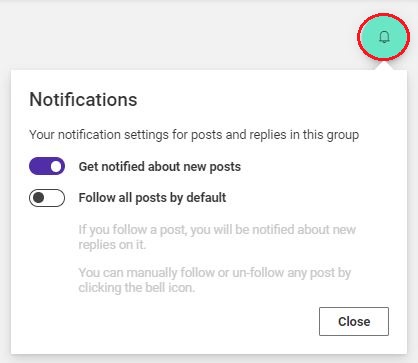 You can also override these settings by activating/deactivating the "bell" symbol on a post.



Watch a video on this topic: